Singing
Chazan Yehezkel Braun believes that singing should be a joyful and pleasant experience. Singing is a way of expressing oneself but this can be difficult sometimes. Many people seem to have difficulty with singing freely because they may have tension in their throats and bodies. Some people experience hoarseness and tiredness in their voice or cannot produce a clear sound. Others may have a limited range of notes that they can sing or cannot sing in tune.
These problems may be solved here at the Jewish Music Centre. Generally, the solution to these kinds of problems may involve a combination of the following techniques taught at the Jewish Music Centre.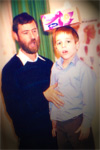 Courses are tailored exactly to your needs
Beginners

Professionals

TECHNIQUES THAT COMBINE BODY AND MIND TO REACH YOUR FULL VOICE POTENTIAL.

Discovering the power of correct POSTURE & BREATHING;   VOCAL EXERCISES to free your voice to assist in reaching its full potential; the function of RESONANCE; the mechanism that produces sound and RELAXATION to gain general awareness of your body and its effect on the quality of sound.

SKILLS FOR BECOMING MORE THAN TECHNICALLY PROFICIENT AND GAINING THE ABILITY TO PERFORM FOR MANY HOURS WITH EASE.

Learning how to develop a more versatile style of singing.  Learning how to break patterns that are no longer allowing you freedom of voice and expression.  Learning how to regain a natural and authentic voice free of tension yet still being technically correct.

Learn new techniques to gain control of your voice through self awareness and having a full understanding of the mechanism of sound release.  Learn how posture awareness, correct breathing, building up control of voice volume may lead to singing.